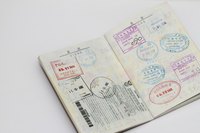 Before you can leave Arkansas and jet off on that dream trip to Paris or take an African safari, you must have a valid U.S. passport. That passport is your key to traveling abroad and allows you to return home without hassle. You won't even make it out of Clinton National Airport without one if you are traveling to another country. You can apply for a passport at any passport acceptance facility in Arkansas, most of which are U.S. post offices. Because it takes several weeks to receive your passport, apply well in advance of your trip.
Things You'll Need
Form DS-11
Proof of identity
Proof of citizenship
Passport-sized photo
Passport fees
Download Form DS-11, the Application for a U.S. Passport, available from the U.S. Department of State website. Do not sign the application, however, until you are in the presence of a passport facility agent.
Gather identification paperwork. You must provide acceptable proof of identity, such as a valid driver's license, military or state ID, naturalization certificate or a previously issued passport. Make a photocopy of the back and front of your ID as well. You must also provide separate proof of U.S. citizenship, such a birth certificate, naturalization certificate, certification of citizenship or Consular Report of Birth Abroad certificate. You cannot provide the same item to verify your identification and citizenship. Make photocopies of both sides of all your paperwork.
Get a passport photo. Most passport acceptance facilities can take your photograph when you submit your application, but it is often cheaper to get it done yourself at a drugstore or shopping center that has a photo processing center. If you wish to take the photo yourself, it must be a recent, 2-by-2 inch photograph showing your full face in front of a plain white background. Nothing should block your face and no head covering should be worn unless for religious purposes.
Take all of your paperwork to the nearest passport acceptance facility. Many, though not all, of the U.S. post offices in Arkansas are passport acceptance facilities, usually the main post office in an area. Call or check online for the one closest to you. Some have limited hours for passport processing as well. You can also apply for a passport at any County Circuit Clerk's office in Arkansas during normal business hours.
Submit all the paperwork and fees to the passport facility agent. Sign your application in the agent's presence and pay the fees. The Department of State's passport website will have the most up-to-date fees. You can pay the application fee and a separate execution fee with a personal check, money order or, in some cases, cash, though you must check with the specific passport facility. U.S. post office locations also accept credit cards for the execution fee only.
Wait for your new passport to arrive in the mail. Routine processing and delivery time is about four to six weeks. To get your passport within two to three weeks, you can pay an additional fee for expedited service when you submit your application and paperwork. All of your personal paperwork submitted will also be returned to you with the passport.