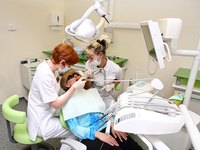 Buying an existing dental practice--versus starting one from scratch--has both advantages and disadvantages. It may seem beneficial to begin with a base of steady clientele, as well as an existing office, equipment and staff; however, you may be inheriting problems created by the previous owner, as well as paying more than you would to start your own office. Purchasing a dental practice requires patience, research and caution. But if pursuing an established practice appeals to you, here is how to go about it.
Search for established dental practices listed for sale. These are usually found through newspapers, trade publications, local business brokers, or national online brokers such as Businessbroker.net, or Syndergroup.net.
Scope out the location of the dental practice that interests you. Does the neighborhood appear to be stable, growing or declining? Are there other businesses nearby that are thriving? Is there nearby dental practice competition? If you utilize a business broker, ask for a demographic analysis, which can explain and compare the population's characteristics, unemployment rates, economics of the surrounding community, and whether there is potential for growth in the area and the business.
Review the current business owner's financial records to understand the economic health of the dental practice. This includes the past two to three years of tax returns; accounts payable and receivable; the salaries and benefits of all employees; a profit and loss statement; an asset list; and either the building's leasing agreement, or an appraisal of the real estate's worth.
Consider the size of the patient base when looking at a dental practice. The more patients on record, the better chance to grow the practice from referrals and internal marketing, a successful technique employed by most dental practices. How many new patients are coming in annually? How many do not return? Also examine the average age (young couples and families, or predominantly older patients), and how far patients are traveling to utilize this practice.
Question why the dental practice is for sale. Is the current owner retiring? Rule out internal issues-- such as staff disputes, bad office practices, poor management or abysmal customer service. Verify that bills are paid on time, and vendors have a good rapport with the current staff and owner. Check to see if any lawsuits are pending against the practice, as well.