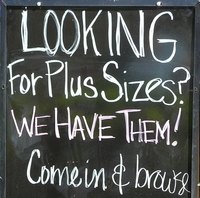 The cost for store advertisement can be expensive, as well as paying someone to make you a sign. Creating your own store sign can save you money and will allow you to be creative and add a personal touch to your business. Designing your own store signs will also give you the freedom to be unique, without the expensive cost of printing services, allowing your business stand out from the rest.
Things You'll Need
Template
Logo
Wood
Canvas
Cardboard
Foam board
Pencil
Gesso paint
Paint
Create a template or logo on a plain sheet of paper. Sketch out how you would like it to appear on your store sign. Add color to the text and logo until you find a look you like. Make your drawing simple and easy to transfer to your sign base. Avoid adding too much text or art, so that the sign is simple to read and easily captures the attention of passers-by.
Select your sign base. Choose a base that is resistant and can be reused, such as canvas or wood. If you are creating temporary signs, you can select disposable bases such as cardboard or foam board, which you may purchase at a craft store. Size your sign base to the desired height and width, leaving an extra inch around each edge, to make your sign easy to read.
Decide which paint you will use. Some paints may fade and wash out easier than others, such as water paints. Acrylics and oil-based paints are commonly used to create projects that will be reused or frequently displayed. Acrylics are water-based paints, but will not wash out easily and are lighter to paint with. Oil-based paints are resilient, but are much heavier and sticky to use. Use a clear coat to seal paint, which will protect it from weathering.
Prime your sign base with white or black gesso paint. Do this in an open area. This process is called gessoing. Your sign base is porous and gessoing will prevent your paint from seeping into the small holes, which would give your sign a washed-out look with less vibrant colors. It will also allow your paint to adhere to the base more easily, preventing it from running. Allow your the gesso to air dry once you are done.
Transfer your text and image to the sign with a pencil. Fold your sketch paper to create eight squares and number each one. Draw eight squares onto your sign to resemble your sketch paper and number them as well. Sketch each shape or text from your paper on to your sign. When completed, you should have the same image on your sign that you sketched on your paper. Carefully remove any lines that will you will not paint over.
Paint your sign according to the colors indicated in your sketch. Do this in a well-ventilated area. Allow the paint to dry after completing each section. Place a protective sealant on signs that will be reused or that will be placed in high traffic areas.