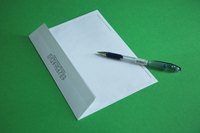 Using a business letter to request a commercial lease deed requires the use of persuasive language, the correct format and accuracy. "Business writing strives to be crisp and succinct rather than evocative or creative," according to "Business Writing Is Different." The business writer should remain focused and concise, and take into account the necessary sections that belong in a letter. A letter is written in a basic form that includes: the date, sender's address, address of the receiver, salutation, introduction, body and closing.
Things You'll Need
Use the block format and Times Roman 12 font to write your letter. The block format is left-justified, single-spaced and double-spaced in between paragraphs, according to Purdue Online Writing Lab.
Write the date. Spell out the month and write the day and year. For example, "June 21, 2010."
Write the sender's address. Include your name, street address, city, state and zip code.
Write the receiver's address. Include the company name, name of person receiving the letter, street address, city, state and zip code. Be sure to address the individual properly using Mr., Mrs. or Miss.
Write the salutation. Use the name of the individual that will receive the letter and place "Dear" in front of the name. If the name is unknown, it is proper to write, "To Whom It May Concern," according to libraryonline.com.
Write the introduction. In this paragraph, state the reason why you are writing the letter. Refer to the intent of the letter. Here's an example: "I am writing to request a copy of the commercial lease for the property located at…"
Write the body. Specify the main point of your letter, reiterating what you discussed in your opening. Inform the reader in a friendly tone about your request to gain a copy of the commercial lease, including any additional information you would like the recipient to know. Include your availability to speak about the matter or any efforts you have made to contact the recipient.
Write the closing. Thank the reader for her time. Close with an appropriate tone. Write your contact information and write a contact number you can be reached at, including times (if applicable).
Include your signature. Write a closing term such as: "Respectfully Submitted" or "Sincerely." Leave a space under that and write your name.
Spell-check your letter for errors. Check for punctuation errors as well.