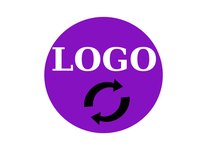 A business logo is an important part of establishing a company image. A compelling business logo makes a statement while a poor one can undercut an image. Work, an online business information resource, recommends considering the type of business and the use of the logo when designing a logo. Simple text-based logos can often be a good choice. For businesses with limited budgets, free online text logo generators allow for easy logo creation. (See reference 1.)
To use Cool Text, enter www.cooltext.com into your web browser's URL. The home page offers 31 different styles for text logos. Click on the style you wish to use. A page will load allowing you to customize the style for your own text logo. Fill in your text and customize the logo as you desire. Customized options include font type, text color and font size. Toward the bottom of the page, choose the file type you wish to save your logo as and click "Render Logo" to generate your new business logo.
To use Flaming Text, visit www.flamingtext.com. Flaming Text works similarly to Cool Text, although Flaming Text does have more style options to choose from. Click on the style you would like to use. Customize the logo to your liking and click "Create Logo."
For The Free Logo Makers, go to www.thefreelogomakers.com. The Free Logo Makers offer free text logo creations for websites. The home page will have a black box where you create your text logo. Format options The Free Logo Makers offer include text style, size, background color and shadowing options. Select "Code to Clipboard" once you have finished customizing your logo. Open your website editing program and paste the HTML code from your logo to where you want the logo to appear on your website.