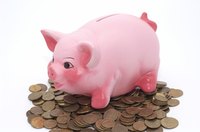 Personal banking has gotten so easy and ubiquitous, if you can connect to the Internet, preferably on a private computer, you can set up a checking and savings account. Many online banks come with higher Annual Percentage Yield (APY), the yield you earn on a deposit over a year, than your community bank. Many also have few to no fees.
Things You'll Need
Internet Connection
Credit or Debit card
Driver's License or State Identification Card
Social Security Number
Thirty Minutes
Online Banking and Savings Accounts
There are many online banking institutions, each with varying amenities. Websites such as bankrate.com and doughroller.net list online banks and offer comparisons of such features as APYs, ATM surcharges and fees.

Many institutions have a minimum balance that can range from $1 to $1,000. The average minimum is $20. One needs to have a debit or credit card available to make the first deposit online and get the account open and functioning.

Have personal identification cards on hand. Provide your driver's license number, Social Security number, date of birth, contact information, phone number and an email account when applying for the online account.
Most online banking institution offer the customer an immediate response, within five minutes. If further processing time is required, answers often come within 24 hours and a bank's customer service representative calls or emails acceptance or denial.
If you are denied an online account, you will be given the steps necessary to satisfy the institutions requirements and an outline as to when you may reapply. Or you may simply chose to apply to another institution.