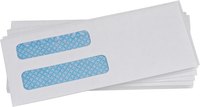 If you're running a business, one consideration is how to gain new clients. Among the many types of advertising you can try, one option is sending out mailers to which potential customers can respond.
To save them time and money, you can create postage-paid business reply envelopes. The U.S. Postal Service imposes rigid format requirements for a business reply envelope.
Obtain a mailing permit from the Postal Service. Postage-paid business reply envelopes must contain your permit number. To get one, go to your post office and request an application for a business reply mail permit. With the permit number you will also get a unique ZIP+4 code and a bar code that must be used on your envelopes.
Download a business reply mail template in Adobe Illustrator or Macromedia Freehand format (see Resources). Edit the template to include your return address, your logo or both, and any other information that you wish to put on the envelope. You must include your ZIP+4 code, bar code and permit number.
Locate a printing company that prints envelopes, preferably one with experience in printing business reply envelopes. Submit your template to the printer and take delivery of your envelopes.