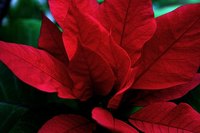 Selling potted plants is a good way to make extra income. Potted or container plants provide up to 10 times more income per acre than plants grown in the field. However, container plants must be monitored carefully for insects and disease. Also, they must be protected from adverse weather. Taller plants, for example, must be secured so they are not blown over and damaged by high winds. Potted plants need irrigation and fertilizer applications more frequently than field grown plants, which adds to the cost of production. To sell potted plants successfully, you must take into account a variety of factors.
Things You'll Need
Contact your state United States Department of Agriculture office or local county agricultural extension office to find out if there are any restrictions to selling potted plants in your state or county. Also, find out if any special licenses are needed before selling potted plants at the location you would like to sell potted plants. Your state USDA office as well as your local county agricultural extension office are both good resources for information on growing and selling agricultural products such as potted plants. They also provide information on marketing as well as growing agricultural products and the inspection process.
Decide the best place to sell your potted plants. Places to sell potted plants include farmers markets, retail nursery outlets, wholesale nursery outlets, roadside sales, mail-order or Internet, florists and locally based grocery stores or departments stores. Larger operations such as chain stores will have central purchasing departments that have certain requirements such as plant size and minimum number of plants to deliver at a specific time and place. Simply ask the manager of a large department store how to contact the central purchasing department.
Price your plants competitively, according to where they are sold, taking into account how much it takes to bring the plant to market. For example, you must factor in labor costs, cost of starter plants, potting soil and greenhouse heating and cooling costs when deciding on a price. Check out the competition to find out current prices for an indication of how much you can reasonably charge.
Deliver potted plants in a van or delivery vehicle that is enclosed so plants are not damaged in the delivery process.
Present all potted plants so they look the best possible. Tattered or diseased plants affect all plants in a display, making the entire display look bad. Clean off all yellow or broken leaves and remove diseased plants as soon as they are noticed. Be sure prices are clearly marked with a description of the plant along with care instructions on a label or sign posted near the display.