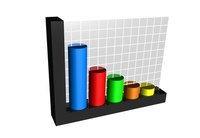 A major task for business owners is forecasting business trends for their company. Companies knowing how to forecast business trends will be ahead of the pack and mitigate the risk of competitors taking business away. Many internal and external resources are available to forecast business trends; if the right data is gathered in a timely manner your business will benefit.
Read press releases of large companies in your industry. Large companies spend significant funds on new trends to ensure they are leaders in the market place. They share the news with press releases of products, studies and various start-up related to the trend. The press releases are generally free or might have a small fee to access prior to general release.
Review government trend analysis. State Economic Development Agencies include information on local business trends. The U.S. Census Bureau's website offers the American Community Survey which is an ongoing survey providing data about your community every year. Using this data you can review what type of trends your local business and communities are shifting towards.
Read trade magazines. Trade magazines offer business profiles, industry news and trends that affect the landscape of the business and are available for all industries. Find your business trade magazine and contact them for a subscription, sometimes they offer the magazines for free to companies in their target market.
Read industry professional trend websites. Many professionals within various industries predict trends on various blogs, websites, newsletters and in books they handle. Search on the Internet to find the trend professionals that suit your business needs. Consider building a relationship with the trend professionals for more in-depth information.
Compare your business financial and account information to previous years. Business trends can be right under your nose. Compare current-year profits against previous years to see where your company is increasing or decreasing in profit. These numbers can be analyzed in detail by customers and services that your business is trending to or away.