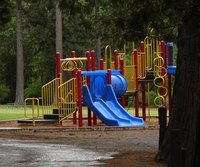 Playground equipment is prone to collecting germs along with debris from being exposed to the elements and lots of children on a regular basis. Therefore, an enterprising individual may wish to provide a service to clean those structures as part of a regular maintenance plan. It is an ideal business for an entrepreneur with limited start-up funds but who is willing to work hard. A viable playground equipment cleaning business can be started with just yourself for the labor and some basic cleaning tools and solvents. You will also need reliable transportation.
Things You'll Need
Business plan
Legal/tax documents
Insurance
Cleaning equipment
Transportation
Advertising
Research the market in your area for a playground equipment cleaning business. Consider the number of playgrounds and any existing competition. Think of ways to compete with any existing businesses. Perhaps you can provide the service at a cheaper rate or offer different levels of service than those businesses.
Write a detailed business plan based on your research and planning. Draft a mission statement to define your business goals. Describe your business in detail, including what equipment you will need, frequency of cleanings, amount of time you anticipate spending at each playground per cleaning session, how you market your business, and how you will advertise. Include financial projections for your first year of business. Attach any necessary documents to form your business at the end of your business plan.
Fill out and file a business and tax registration form as well as any other necessary forms to establish your business as a legal entity at the local, state and federal level. As a playground equipment business, you may be required to have a permit or license for this industry, either at the local or state level. Contact local and state officials to determine the requirements. Contact a laywer or accountant if you have any specific legal or accounting concerns.
Meet with a local insurance agent to discuss your insurance options. Most people will want to know that you are properly insured before hiring you to clean playground equipment. An insurance agent will be able to advise you of your options for insurance plans.
Acquire your cleaning equipment based on your research and budget projections. You will want a pressure washing machine, bucket, sponges, rags and cleaning solvents.
Purchase or lease a vehicle, if you don't have reliable and appropriate transportation.
Advertise your new playground equipment cleaning business in local newspapers and classifieds. Join your area chamber of commerce to take advantage of the collective resources. Many chambers of commerce advertise in local publications. Cold call several community offices in your surrounding area and offer your services for their public parks with playground equipment.