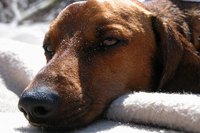 The most common tapeworm found in dogs comes from fleas, so dogs must be treated for both infestations at the same time. A dog infected with tapeworm displays such symptoms as diarrhea, vomiting, dragging its backside around the floor and weight loss. Another indication that a dog has tapeworms is small white particles, similar to grains of rice, around the dog's anus or in its feces. Untreated tapeworms can cause extreme anemia in dogs, and in some cases death. Fortunately, treating a dog for fleas and tapeworms via natural, nonchemical methods is easy and inexpensive.
Things You'll Need
Pumpkin seeds
Pestle and mortar
Wheatgerm oil
Herbal dog shampoo
Flea comb
1 lemon
Spray bottle
Lavender or citronella essential oil
Rope or webbed dog collar
Crush pumpkin seeds to a powder in a pestle and mortar. Do not roast the seeds first, and include the husk as well as the seed. Add up to 1/4 tsp. freshly crushed pumpkin seeds, depending on the size of your dog, to your dog's meal.

Deter tapeworm with wheatgerm oil once you have treated your dog. Mix up to 1 tsp., depending on the size of your dog, into its daily meal.
Bath your dog in an herbal shampoo containing citrus oils to kill any fleas. Leave the shampoo on for as long as possible, and remove any visible fleas with a flea comb. Place the fleas in a separate jug of hot, soapy water to kill them. Rinse your dog thoroughly.
Cut a lemon into small pieces, and place them in a jug. Cover the lemon with a pint of boiling water. Leave overnight, and then strain the liquid. Put the strained liquid into a spray bottle. Spray your dog all over, paying special attention to the tail area, under the fore legs and behind the ears. Protect the dog's eyes as you spray. Apply this spray once a week, after bathing your dog.

Rub three drops of citronella or lavender essential oil into a rope or webbed collar to create a natural flea collar. Retreat the collar weekly.