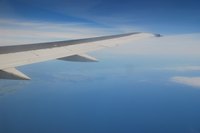 Flight trackers are useful tools for travelers. Most sites for tracking plane flights show scheduled departure and arrival times as well as actual departure and arrival times for flights arriving late or early, making flight trackers an ideal tool for those picking up or dropping off travelers. Flight trackers may also show the flight details: the altitude, speed and type of aircraft used, as well as showing a visual display of the flight path. There are several ways to track flight paths.
Things You'll Need
Go to the website flightwise.com. Under "Flight Tracking," click on "Track Flights." Search by entering the flight ID or the airline and flight number. Click "Search." Flight details, departure information and destination information will be shown, along with a visual guide of the flight's path.
Alternatively, on the main page under "Quick Track," select the airline and enter the flight number, then click "Track."
Go to flightaware.com. Enter the airline name and flight number under "Quickly and Easily Track a Flight."
Go to the specific airline's website. For American Airlines go to web link aa.com, for United Airlines go to web link united.com, or for Southwest Airlines go to web link southwest.com. For all other airlines search on google.com for the official site.
For American Airlines, click on "Travel Information." Enter the departure and arrival city or flight number under "Gates & Times."
For United Airlines, scroll over "Services and Information" and click on "Flight Status." Choose the date, and enter the departure and arrival city or flight number under "Flight Status."
For Southwest Airlines, under "Customer Service" click "Travel Tools." Under "Flight Status" click "Flight Status Information." Select departure and arrival city or enter flight number.