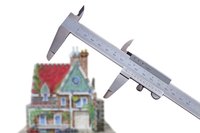 When interest rates are low, locking in a new rate can realize savings of hundreds of dollars each month. For many, though, getting a new interest rate means refinancing, and with refinancing comes the entire loan process and closing costs, which can reduce the savings, taking up to a year or more to break even on the lower interest rate. Getting a lower mortgage interest rate without refinancing is possible, however, and is essentially the same as requesting a mortgage modification through your lender. With a little perseverance and a good relationship with your lender, you can get a lower interest rate with more affordable monthly payments.
Contact your lender to find out about current interest rates. You will need the information about your lender's current rates in order to compare these rates to those of other lenders.
Determine the interest rates offered by other lenders. Knowing what other banks and lenders are offering provides you with a bargaining chip when you begin working with your current lender.
Call your lender to discuss the possibility of lowering your interest rate without refinancing. The decision will be at the discretion of the lender so request to speak to someone in the loss mitigation department. The chances are that the person responsible for answering the phone will tell you that the bank cannot help you, but the loss mitigation department does have the authority to assess, approve or deny a mortgage modification request.
Prepare a letter in which you formally request the interest rate adjustment. If the bank official to whom you speak is willing to approve the adjustment, a letter is not necessary. Otherwise, a formal letter that is thoughtfully prepared can provide the documentation that the bank requires to consider the rate change. The letter should be one page, in which you explain why you are requesting the rate adjustment and, if a modification cannot be reached, you may be refinancing with another bank. Avoid using threatening language but be sure to remind the bank that you are still a customer who can take your business somewhere else.
Present proof of hardship and current bank statements if you are requesting an interest rate adjustment due to your financial situation. Modifying a mortgage is easier than foreclosing on a home, so many lenders are willing to work with customers who have some consistent income but not enough to make current payments. Proof of hardship is usually recognized as a signed affidavit showing that your financial situation has changed, and the bank statements will show the lender that you still have some income with which to make the payments.