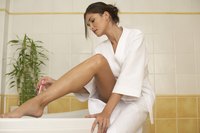 Leg acne is a common concern, especially if you shave often. Fortunately, it's also relatively easy to treat. It's also important to take preventive measures to avoid future breakouts. Since you may not experience significant results for several months, patience and consistency are key to achieving the clear limbs you long for.
Leading Causes
Ingrown hair from shaving is the leading cause of acne on the legs. Another culprit is tight-fitting pants, which can trap dirt and sweat and hold them against your skin. Additionally, synthetic fabrics can also encourage breakouts because they are not as breathable as cotton and can irritate skin.
How to Treat
Shave in the shower with a fragrance-free, hypoallergenic shaving cream to avoid ingrown hairs and irritation. Clean your legs gently using a body wash containing salicylic acid once a day to treat acne breakouts. Deep in-grown hairs that don't respond to these methods may be signs of keratosis pilaris, a condition in which keratin plugs up hair follicles. Ask your dermatologist if you think this may be the root of your problem.