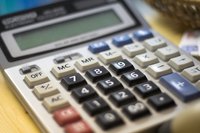 The Federal Pell Grant Program enables lower-income students to receive financial aid for college courses. The grant does not have to be paid back, but eligibility requirements must be met before the grant can be issued. Students can use a Pell Grant at any registered post-secondary institution. Calculating a Pell Grant requires several financial numbers that help explain a student's financial needs. A student's expected family contribution (EFC), the cost of tuition, enrollment status (full-time or part-time) and whether the student attends for a full academic year or less are all necessary factors when determining the amount of a Pell Grant.
Calculate the expected family contribution (EFC) available for post-secondary educational expenses using an online calculator. Visit the FinAid Web site and complete the requested fields to determine an EFC amount. Complete all fields using bank statements, tax returns and financial statements. Families are expected to contribute to the cost of college to the extent that they're able. Using the FinAid form, determine how much your family will be expected to contribute. Record that number on a piece of paper.
Calculate the cost and expenses for attendance at a registered educational facility. Visit the CollegeBoard Web site to figure the approximate expenses. Enter the current annual college costs at a particular university in today's dollars. Select an average cost if you don't know the actual attendance expenses. Choose a college cost inflation rate from the available options. If you are uncertain of that rate, choose a 3% inflation rate. Enter the expected years of attendance. Choose the number of years until college. Record the estimated amount needed for college expenses.
Determine the percentage of costs you plan to cover from savings. Figure the amount of personal savings that you will have when enrollment time arrives. Include the family's college savings to date. Determine an annual rate you expect to earn on a current savings plan or a 529 plan. Add the amount of money that you are saving per month for college. Record the total amount of personal savings that will be available when you enroll at a higher-education institution. This number can be used to determine a more precise EFC amount.
Visit the College PayWay Web site and use the Pell Grant calculator to determine the grant amount. Enter the amount of estimated family contribution in the first field and press Enter. Enter the cost of attendance at the university in the second field. Choose full-time or part-time academic status. Click the green "Calculate" button to see the expected Pell Grant amount. According to the FAFSA Web site, for the 2010 school year, the maximum Pell Grant award was $5,550, and the minimum award was $555.