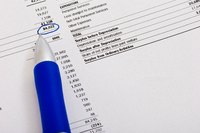 Financial statements consist of a balance sheet and an income statement. Although banks and insurance companies often require financial statements that are prepared by a Certified Public Accountant, a bookkeeper or business owner can prepare financial statements to be used for internal purposes. A balance sheet is a picture of the company's financial position at a specific point in time. An income statement represents the operations, income and expenses, of the company over a period of time.
Things You'll Need
Determine the time period you want to prepare financial statements for. For example, if you want to prepare a balance sheet as of May 31, 2010, you may want to prepare an income statement and statement of cash flow for the year June 1, 2009 through May 31, 2010.
Review the company's general ledger and make sure all items have been posted correctly. Correct any mispostings before preparing the balance sheet and income statement. This is also a good time to record non-cash expenses such as depreciation and amortization.
Prepare the balance sheet. Using the trial balance, list all the assets, liabilities and equity accounts and their various dollar amounts. Total assets must equal the sum of total liabilities plus total equity.
Create a classified balance sheet by separating assets into categories that include current assets, fixed assets and other assets. Separate liabilities into current liabilities and long term liabilities. If debt exists, ie: a mortgage, separate the debt into current and long term portions. The current portion is the amount that will be paid within the next year. The long term portion is the remaining amount.
Prepare the income statement. Using the trial balance, record the total of all income accounts and subtract returns and allowances. Prepare the cost of goods sold section. Cost of goods sold includes direct labor costs, materials and purchases, subcontractors and other job costs. Subtract the total cost of goods sold from net sales to arrive at gross profit. List all expense accounts and their various dollar amounts. Subtract total expenses from gross profit to arrive at net income.
Reconcile retained earnings per the balance sheet and the income statement. Retained earnings is the combination of profit held by the company from prior years plus the current year net profit, or less the current year net loss, less distributions, plus capital contributions. When there is a problem reconciling retained earnings, the issue generally lies in the distributions made during the period covered.