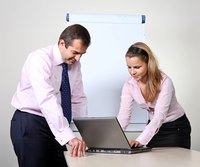 Starting a training business involves assessing your own skills and credentials, developing a business plan and setting up a fee schedule. As a consultant, running seminars, workshops or conducting other types of training sessions can be a lucrative application of the skills you have developed in your industry over the years .
Ensure you have sufficient financial resources to run your new business, typically enough to cover your personal living and business expenses for one year.
Develop the business skills using resources such as the Small Business Administration website to ensure you can effectively run, manage and market your training business. Ensure your training development and delivery skills meet industry standards. Use resources such as the American Society for Training and Development's website. Also, use your expertise in specific areas, such as interpersonal skills, hardware development or software design to be able to customize your own courses.
Create a business plan. Define your mission, expertise, competitive advantage and marketing strategy. Decide how you want to structure your business. Offer your services to organizations and provide training services at their locations. Or set up your own location and invite participants to register and attend. Offer personalized coaching and mentoring sessions in your area of expertise.
Develop training materials for classroom and self-paced offerings. Use desktop publishing tools such as Microsoft Office Word and PowerPoint, as well as authoring software such as Articulate or Adobe Captivate to produce demonstrations, simulations and podcasts. Standard sets of training materials include a student guide, instructional presentations, job aids and quick-reference cards. Keep a list of relevant resources.
Arrange to rent or buy locations to offer your sessions. Space at community centers, colleges or training centers in your area may be available at a low cost. Ensure that these locations provide sufficient resources (such as tables, chairs and computers) to support your sessions.
Use the Internet and other media (such as print, television and radio) to advertise your offerings. Use social media technology such as wikis, blogs and forums to promote your training expertise. Use web conferencing tools such as Microsoft Live Meeting to provide distance-learning alternatives that reach a global audience.
Network with other training businesses, consultants and customers to find out what people are doing, what training needs and fee structures exist.
Establish a competitive fee structure. Charge by the hour, participant or session, depending on what makes sense for the situation. Manage your billing and accounts using popular services such as PayPal.
Volunteer in your community to gain exposure and share your expertise.