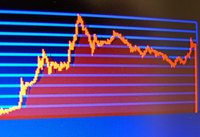 The foreign currency exchange market, or Forex, is the world's largest asset class with 10 times the capital of all the world's stock markets. Traders speculate on changes in currency exchange rates. The Forex market is a strong chart-driven market. This makes backtesting a logical step in the development of a Forex trading strategy. Since charts are based simply on price data, a strategy can be tested against past Forex trends by applying the strategy's rules to historical data. This is used to see how effective a trading strategy is in the long term.
Install spreadsheet software, such as Microsoft Excel or Open Office, and use the program's features to analyze price information with your own trading strategy. Before any spreadsheet analysis may be done, you must acquire a historical database of Forex data for import into the spreadsheet. This is available from services such as Optimal Trader and GetRates. Once the historical data is in the spreadsheet software, utilize formula features that resemble your trading strategy. Most strategies are based on "if..else" conditional tests. For example, a strategy may be described as "if the price of this bar ends higher than the previous three bars then buy into the market." While this is a simple strategy, even more complex ideas can be translated into formulas inside the spreadsheet program. Then you can quickly scan an entire price history to see how the strategy would have behaved.
Subscribe to the TradeStation strategy and backtesting platform if you want a comprehensive all-in-one solution to your Forex trading needs. TradeStation is a broker that also provides advanced software for real-time trading. But the platform includes the ability to create your own custom Forex strategies and then backtest them against a large historical database. This obviates the hassle of acquiring a Forex database independently and then translating your strategy into a spreadsheet. TradeStation is built on the "EasyLanguage" programming language. This language is a simplified version of other programming languages designed for anyone to learn quickly. The backtesting system applies the EasyLanguage strategy against many years of Forex data and provides concrete results showing the number of profitable trades versus losing positions and the overall percentage returns of the strategy.
Register for the Multicharts platform for advanced backtesting features. Multicharts is available in two versions, but the "MCFX" system contains a seven-year backtesting database specifically for Forex traders. These two programs use the "PowerLanguage" system, which is nearly identical to "EasyLanguage," thus providing seasoned TradeStation users with an alternative to their backtesting without a new learning curve. MCFX is not a broker system, however, so real-time trading is not possible without involvement of a third-party firm. However MCFX does connect with some broker platforms to allow seamless trading of strategies that are successfully backtested.