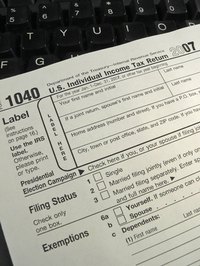 For taxpayers receiving a refund, the wait for the refund to arrive is often long. If tax returns are mailed in, the refund process usually takes four to six weeks. Electronically filed tax returns offer a tax refund in as little as one to two weeks. If you opt to electronically file your tax return and have a paper check mailed to you, your refund will take longer than it will if you choose to have your refund deposited directly into your bank account.
Things You'll Need
Log on to the Internal Revenue Service website. Choose the E-file option. To the right of the Individual Taxpayers heading, click on Free Federal Online Filing. This will bring you to a page that gives you a list of companies you can use to electronically file your return. Review the list to determine which company you'd like to use.
Click on the link to the company of your choice to enter their webpage.
Enter the information required to file your tax return: your tax information, your personal information and your bank account information where prompted.
Review your completed tax return, choose the option that allows you to electronically file your return and submit your tax return to the IRS for review. If you use the Direct Deposit option, your refund should be in your bank account within two weeks of filing.