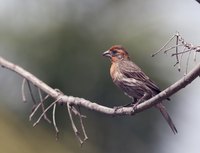 Owl finches are beautiful birds and make great pets. Breeding these tiny birds, like many other birds, can be a challenge, especially for those just starting out; it takes some time and proper preparation. Fortunately, once the preparations are made, nature takes over and the owl finches will do the rest of the work in breeding without too much hassle for the owners.
Things You'll Need
Male and female finches
Dried grass
Feathers
Put the male and female owl finch in the same cage. They can even be placed in a cage with several other owl finches as long as the cage contains the same ratio of male and female birds. Owl finches are social birds, so having several pairs in the same cage is not a problem.
Place nesting items where the finches can use them. Dried grass, feathers and similar items should be put in the cage where the birds can easily use them to make the nest. The nest box acts as a base for the nest. Some owl finches will try to avoid the nest box, but will eventually use it if nothing else is supplied.
Give the finches some cover. Owl finches will not mate without some form of cover. The cover can take the form of plastic or real plants that hide a section of the cage. In the wild, owl finches would use the natural cover of nature around them, so give the finches some plant life around the outside of the cage.
Allow the owl finches to incubate the eggs. Birds naturally incubate in the wild and since owl finches only need to incubate for about two weeks, there is no point to putting the eggs in an incubator. Male and female owl finches will sit on the eggs to incubate.