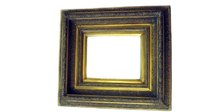 It is an important business practice to price goods and services fairly. If you charge a customer too much, you will likely have an unhappy customer. However, if you charge too little, you are not giving yourself enough pay or profit. You must earn enough money to stay in business or expand. Most people expect custom framing to be costly. Materials can be expensive, and it takes a skilled hand to properly build a frame.
Things You'll Need
Conduct market research to determine what your competitors are charging. This will give you an idea of what your services are worth. You do not necessarily want to charge less than competitors. Often, customers would rather pay more for better quality.
Establish a pricing strategy. For example, estimate how many frames you can produce and sell in a year. Then, calculate overhead costs, start-up costs and cost of materials. If you wish to make a profit (which most people do), add that in to your costs as well. To determine when you will turn a profit, average how much time you spend on each frame and "pay yourself" per hour. Take all of these costs and divide by the number of frames you can produce in a year. The result is price per frame.
Check your sales monthly to make sure your pricing strategy is working. Each month, sales should cover roughly 1/12 of the annual costs determined in step 2. If you're not earning enough, you may need to alter your pricing or cut costs.