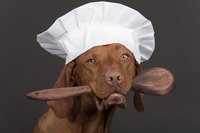 You may buy a treat at the pet supply store that says "doggy" on the package, but that doesn't automatically mean it's healthy for your pooch. Making Gidget's treats at home using natural ingredients such as carrots is the only way to control how healthy and nutritious her food is. Carrots are a low-calorie way to put vitamins K and C in Gidget's diet, along with extra potassium and fiber. Plus, Pet MD says the beta-carotene and vitamin A in carrots supports eye health, helps ward off cancer and promotes healthy skin and coat.
Things You'll Need
1 cup carrot, shredded
1/3 cup organic creamy peanut butter
1/4 cup unsweetened apple juice
1 cup rolled oats
1 1/2 cups whole wheat flour
Mixing bowl
Large spoon
Rolling pin
Cookie cutters
Cooking spray
Cookie sheet
Preheat the oven to 350 F.
Place carrots and peanut butter in the bowl and mix with the spoon.
Add the apple juice to the carrot mixture and stir to combine.
Pour the oats and the flour into the bowl with the carrot mixture and stir until the mixture forms a stiff dough. If the dough is too stiff, add water 1/8 cup at a time to soften it up.
Knead the dough with your hands to incorporate all ingredients.
Place the dough on a counter top generously sprinkled with flour. Use the rolling pin to roll the dough to 1/2 inch thickness.
Cut shapes from the dough using the cookie cutters.
Spray the cookie sheet with the cooking spray, and then transfer the biscuits to the cookie sheet.
Reroll the dough, continuing to cut out biscuits until all the dough is used.
Place the cookie sheet in the preheated oven and bake the biscuits for 25 minutes.
Turn the oven off and open the oven door a crack. Leave the biscuits in the oven to allow them to cool and become extra crunchy.
Serve cooled biscuits to your dog.