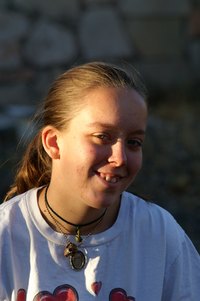 Almost everyone had an acne outbreak at one point in their lives. There are many kinds of acne, but whiteheads are the common occurrence of acne. Whiteheads are formed when follicles or pores, do not drain the oil that gathers in them; this is known as sebum. When air can't enter inside the follicle to oxidize it, a tiny whitehead will appear. Understanding what whiteheads are and how to treat them can keep them under control.
Things You'll Need
Baking soda
Prescription medication
Wash your hands and face. Prep your skin by thoroughly cleansing and exfoliating your face. Exfoliating your skin will remove the dead skin and most of the whiteheads, leaving only the stubborn whiteheads.
Steam the area with the whiteheads. You can dip a towel in hot water and apply it to your face for five minutes (do not burn yourself). Also you can pour hot water into a bowl and lean over it and steam your face for five minutes. Steaming your face allows the water to soak in and open the pores.
Apply a facial cleanser that contains salicylic acid and benzoyl peroxide. These ingredients can help control existing whiteheads and prevent future breakouts.
Try home remedies. You can try a baking soda and water mixture and gently apply it to your face to remove the whiteheads (and blackheads). Add enough water to the baking soda to make a paste.
Visit your dermatologist. Your dermatologist can prescribe a lotion or an oral medication to help your acne.