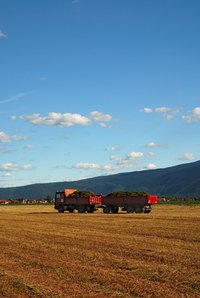 Trading futures contracts involves buying and selling contracts for the future delivery of physical raw materials, such as gold, silver, pork bellies, corn, wheat and soybeans. The futures market allows producers and consumers to manage risks by locking in prices now for products to be delivered in the future. By locking in a price today, a producer removes the risk that the price will be lower in the future, and a consumer removes the risk that the price will be higher in the future. Speculators trade futures contracts hoping to make money on short-term price volatility. Most futures trading is done by speculators.
Begin with a basic education on futures trading and find out if futures trading is for you. There are many futures trading brokerages on the Internet, and almost all of them have educational materials available for beginners. You should visit several brokerage sites and review the educational materials. Learn the futures market basics, such as how to read a bar chart, how to set a trade, how to calculate profits and losses on a futures trade, how margin works and the risks involved. You must understand that trading on margin is very risky and can result in large losses very quickly. If you have a low risk tolerance, futures trading may not be for you. However, there are ways to manage and limit risk that may suit your risk tolerance.
Paper-trade before risking your money. Almost all brokerages offer paper-trading accounts using their trading platform. This allows you to set up simulated trades under the exact same conditions as real trades. You can practice basic techniques, conducting research and making trades based on your research, setting automatic limits on when to take profits and when to stop losses, using analytical tools like bar charts, candlestick charts and basic research to understand the markets in which you are trading.
Determine which commodities you will start trading first. Grains are always a good choice because they are relatively easy to research and understand. For example, if you trade soybeans, you will learn that Brazil and the U.S. are large producers. You can research and track the crop conditions and weather in both countries for the various growing regions during the growing seasons. Match the ups and downs in the market with your basic research and gain an understanding of what moves the market.
Fund your account and begin making trades based on your research and analysis. Start small, trading one or two contracts at a time, and always set a stop loss to automatically close your trade if it goes bad, so you can limit your risk. As you gain knowledge and confidence and build your account, you can make larger trades, but always realize the larger the trade, the more risk you take on, and the risk increases exponentially when you trade on margin.