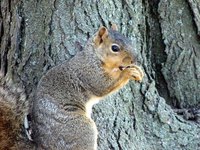 Most people who own dogs know the excitement, barking, jumping and pulling that occur when a dog sees a squirrel. Whether it's the scent, the intrusion of territory or other factors about the small fuzzy creatures, most dogs react strongly to squirrels. There is a difference, however, between reacting and hunting; the precise chasing and treeing techniques that make up a good hunt must be instilled in a dog through training. Positive reinforcement and a lot of practice can help to make your hound an effective squirrel hunter.
Things You'll Need
Squirrel hide or skin
Squirrel scent
Start training your dog from the time it is a puppy; most dogs can begin training as early as 5 weeks old. Begin training it with commands such as "sit," "stay" and "come"; it must know how to obey you before you can teach it to hunt.
Provide positive reinforcement in the form of pets, treats and praise each time your dog succeeds at any training task. Avoid punishing your dog with smacks or yelling; many dogs will not understand that the punishment is associated with their behavior, and these dogs may become disobedient, mistrustful or aggressive.
Use a hide or skin from a deceased squirrel to associate your dog with squirrel scent. Drag the squirrel hide in front of the dog and encourage the dog to chase it; the dog will combine the scent and the chase in its mind, building the foundation for hunting.
Create scent trails using artificial squirrel scent designed for hunting. Encourage your dog to follow these scent trails so that it has practice tracking squirrels. Have some of these trails lead onto trees so that the dog gets used to looking in trees for squirrels.
Place a live squirrel in a rolling cage. Hold the cage still so that the dog gets the squirrel's scent, then let the cage go and encourage the dog to chase it. Each time he gets close to the cage and touches it, the cage will roll a little further; this will teach your dog endurance.
Keep the dog in place and take the caged squirrel near a tree, 30 to 40 yards from your dog. Open the cage and release the dog at the same time; encourage the dog to chase the squirrel until it runs up the tree and to continue to bark and scratch at the tree. Consistent training in this manner will teach the dog to always chase squirrels up trees and to inform you of the squirrel's location.