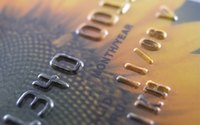 When traveling it is always smart to use your debit card at local ATMs instead of carrying a lump sum of cash. This allows you to withdraw only what you need and lowers the risk of losing all of your money. However, when traveling internationally, you do face incurring international ATM fees. These fees are charged by both your bank and the ATM, and often you are charged upwards of $5 per transaction.
Purchase a pre-loaded ATM debit card. Because there is no bank involved with the card, you aren't being charged an international rate. The same is not the case with your standard bank ATM, as all banks and credit unions charge a fee. There are several links in "Resources" for pre-loaded debit cards.
Insert the debit card into the ATM and type in the four-digit pin number. When the screen appears, it states what the withdrawal fee is. If the ATM has a withdrawal fee, you can't do anything about it except go to a different ATM. Europe and North American ATMs will have withdrawal fees, but many locations throughout South America, Asia and Africa do not.
Type in the amount of money you wish to withdraw, then follow the prompts on the ATM screen to complete the transaction. Typically ATMs run by banks are less likely to have the international fees than business-owned ATMs.