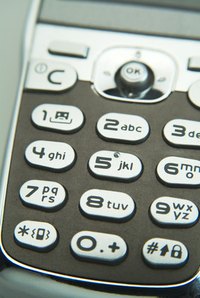 Tijuana, Mexico is located just a few miles south of the U.S./Mexican border, underneath California. Its close proximity makes it a regular destination for people living in or visiting southern California. It is also common that people in southern California have friends or family in Tijuana, so people frequently call Tijuana from Anaheim, California.
Obtain the phone number you wish to call in Tijuana. The Mexican country code is 52, and the area code in Tijuana is 664. The rest of the number consists of a seven or eight digit phone number.
Dial the number. If you are calling from a land line or house phone, you need to have long distance and international coverage as part of your plan. Dial 011-52, then dial 664 (the area code in Tijuana) and the number. If you are calling a mobile phone in Tijuana, dial 011-52-1, then dial 664 and the number.
If you are calling from your mobile phone, you need to make sure you have coverage that includes the ability to call Mexico. Some carriers offer a Canada/Mexico calling plan for just a few dollars more per month. Once you verify that you can call Tijuana from Anaheim on your mobile phone, dial the number as described above.
Purchase an international calling card. Most drug stores sell international calling cards--specifically, calling cards to call Mexico from the U.S.--for between $5 and $10. The card gives you a certain amount of minutes you can use to make multiple calls to Mexico, and there are no additional fees to place the call once you have the calling card. The specific instructions for dialing will be listed on the back of the phone. In most cases, you will dial an 800 number, enter a specific code assigned to your card, and dial the number in Tijuana.
You do not need a calling card to call Tijuana from Anaheim on your home or mobile phone, as long as you have the required coverage.