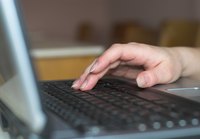 Self-promotion plays a vital role in connecting your fashion company with the media, while also helping your company garner favorable publicity. Unlike advertisements, press releases help provide your target audience with more useful and reliable information in a timely manner. And while the elements of a press release are typically straightforward and brief, writing one that wins the attention of magazine writers and/or newspaper reporters requires a proper press release format and writing practice.
Determine your news topic and how it relates to the fashion-related media. Consider the type of media outlets you will be sending the press release to. Gather the most viable information regarding your topic and determine the main focus of your fashion press release.
Ensure that your press release is straightforward and mentions the most important points about the fashion company and/or its products. Typically, a press release is no more than one page; therefore, keep your writing brief yet informative and concise.
Begin writing by typing the words, "FOR IMMEDIATE RELEASE" in the top left-hand corner and make sure the letters are all in caps. On the following line, provide all relevant contact information.
Create an interesting headline that will capture the reader's attention and that briefly highlights the most important facts that the body of the release will contain. Make sure that the headline is bold and centered. Also, a subheadline (written in smaller font) will pique reader interest and curiosity.
Type a dateline (in all caps) in the next line and include the city where your press release will be generated, such as NEW YORK, NY – June 1, 2010.
Write your first paragraph and incorporate key information about the news topic, which includes the who, what, where and why facts. Also, try to write the facts in an interesting manner that would help spark your reader's interest and get him to read further. Inform as well as entertain your reader.
Include any other relevant details about your news topic that makes it unique or special within the fashion industry. Since press releases are time-sensitive, make sure that the information has a recent, timely slant or viewpoint. Conclude your press release with a "For additional information" line, which will enable your reader to get more information about the news topic. Include reliable resources from credible, fashion-related websites like Style.com or Women's Wear Daily.
Center the marks, "# # #" at the bottom of the release to indicate the end and print it on quality paper.
Send your fashion press release via email or regular mail to the most relevant editors and writers who cover stories that relate to your topic.