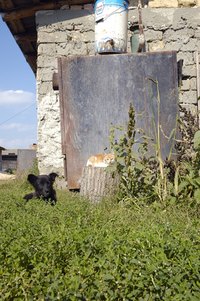 To keep dogs and cats out of certain areas, there are simple repellents you can make out of common household ingredients. These products offend the animal's sensitive nose, which causes them to naturally avoid the area. You can make a spray version to apply to fences, buildings, cars, boats and porches. To keep dogs and cats away from gardens, you can make a blend of dry ingredients that can be sprayed with ammonia and placed by plants and sprinkled along the edges of lawns to discourage animals from crossing an invisible smell boundary.
Things You'll Need
Plastic or rubber gloves
Spray bottle
Ammonia
Water
1/2 cup lemon or orange peel
3 tbsp. ground chili pepper
Knife or blender
Nylon pantyhose
Spray and granular repellent
Choose a well-ventilated area since ammonia fumes can be quite strong and irritate eyes and nasal passages. Put on the gloves before opening the ammonia since it also can irritate skin. If you are sensitive, consider placing a fan behind you to keep the ammonia fumes from accumulating.

Fill the spray bottle 2/3 full with water and fill to the top with household grade ammonia. Screw the spray nozzle tightly and shake to blend ingredients.
Use a sharp knife or a blender to dice up the lemon or orange peel.
Sprinkle the chopped peels with ground chili powder. Toss lightly to coat the peels with the chili powder. If you are using a blender, use the pulse feature to mix the ingredients.

Spray the ammonia/water mixture on the peel/chili mixture and leave to dry.
Liberally spray the ammonia and water mixture on any colorfast surface, such as fence posts, gates, sidewalks and driveways. You can also spray it around car wheels, boats and trailers. When applying to outdoor buildings, concentrate on the the corners and the doorways. It is not recommended that you use this formula indoors because the fumes can concentrate and cause eye irritation.
Pour the dried peel/chili mixture in the nylon pantyhose and tie the ends to make a small bundle. If you want to make multiple bundles, expand the recipe accordingly.
Place the bundle on the ground by the plants where you want to repel dogs and cats to make a long term repellent. If desired, make small holes in the nylon pantyhose to allow you to sprinkle the mixture on the ground along property lines and sidewalks or around your garden area.