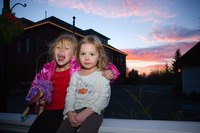 The Maryland Department of Education's Office of Child Care (OCC) issues licenses for daycare or child care centers. The OCC defines a child care center as "a facility operated by an individual, agency or organization that offers child care services for part or all of the day, or on a 24-hour basis on a regular schedule, at least twice a week." Obtaining a license requires documentation about the physical location, staff and business plans, along with a series of inspections and background investigations. The licensing process takes approximately 60 days to complete.
Contact the regional licensing office to apprise them of your interest in applying for a child care license. Maryland has 12 regional offices divided by counties. Access the list of regional offices through the Maryland State Department of Education Divisions website. The regional office works with the applicant throughout the process, inspecting the facilities, ensuring regulatory compliance, providing technical support and issuing the license.
Attend the required orientation session presented by the regional licensing office. The office provides information about the application process and explains the requirements for obtaining a license. Find the dates and times for the orientation sessions on the regional licensing offices' websites or by contacting the regional office.
Locate the licensing forms for the application packet online through the Maryland Department of Education Divisions: Licensing Forms website. Different types of care facilities complete specific forms. The orientation session information includes explanations about the types of forms to submit.
Prepare and submit the complete application packet. Applicants submit a notice of intent and the OCC application along with documentation about business practices, safety and compliance. The application packet includes documents that detail the physical location, including floor plans, fire evacuation plans and site plans. Provide documentation of workers' compensation insurance and zoning compliance. Include staffing information and criminal background investigations of all employees or individuals coming into contact with the center's children, along with complete medical evaluations. Put together a business operations plan.
Ensure that the facility meets safety standards for the care of children, including sanitation, food preparation and storage. Purchase an approved first-aid kit; cap all electrical outlets; remove any lead-based paint; store all hazardous products appropriately and out of the reach of children. Find details of the safety requirements in the Maryland Code of Regulations, Title 13A State Board of Education, Child Care Regulations.
Schedule an inspection with the regional licensing office when the facility is ready for occupancy by children. The regional office determines whether the facility meets the regulation standards. Be prepared for inspections by the local fire department or authority and by the local health department. Upon completion and approval of all inspections, the regional licensing office issues the license for operation.