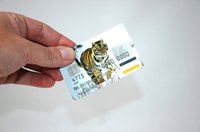 Using a credit card in China can be as simple as using your credit card in the U.S., so long as you make some basic preparations before you go. Credit cards are a great way to spend money internationally, since most programs offer some type of fraud reimbursement and identity protection. If you take your credit card to China, be sure to have a backup form of payment in case your card is lost or stolen. It takes longer to get a replacement card if you're out of the country.
Call your credit card company and ask if your card can be used in China. You can find their number by going to their website and looking for "Contact Us" or "Customer Service." Most major credit cards will work in China.
Find your credit card agreement in your documents. If you do not have it available, call your company and ask how you can get a copy.
Read your agreement and find out what the international charge is for using your card. You want to be aware of this charge before you use your card in China, because more money will be taken out of your account and you could accidentally go over your limit.
Notify your company over the phone or by email that you will be using your card overseas three days before you leave. Some cards have such sensitive fraud protection that a sudden influx of overseas charges can cause your card to be cancelled by your company. Notifying them that you'll be using the card in China can help you to avoid this problem.
Check with each Chinese business you patronize before purchasing anything to be sure you can use your card.
Give your card to the merchant and sign the receipt when they hand it to you. Try to make your signature match the signature on the back of your card and be prepared to present your identification.