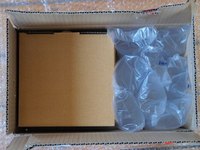 When figuring shipping rates, weight, size and destination determine how much you pay to send your package. If you ship items on a regular basis, investing in a weight scale might save you money. If you do not own a scale, the best course of action is to take the package to the post office and have it weighed before you decide which service to use. The flat-rate boxes offered by United States Postal Service are sometimes the best alternative. If your item will fit into a flat rate box, you do not have to worry about weighing an item up to 70 pounds to shop it anywhere within the United States. However, the trick is fitting your item into a flat-rate box.
Things You'll Need
Package the item with lightweight materials sturdy enough to protect the item you are sending. For example, bubble wrap weighs less than paper wrapping.
Weigh and measure your package. Measure the package for the height, length and width or measure the length and girth. The girth is the measurement around the package (top, bottom and sides). Add the length and girth.
Choose whether to send your package priority mail or parcel post. Priority mail gets to the destination faster than parcel post but costs more.
Select any extra services, such as insurance and delivery confirmation. Add the cost of insurance, delivery confirmation or signature confirmation. Extra services raise the price of shipping. Without delivery confirmation, insurance and signature confirmation could cost as much as $4 more.
Use the USPS website calculator to determine shipping rates and save money if you print your postage using the on-line calculator. If you do not intend to print the postage yourself, you can still use the on-line calculator to find the cost to ship an item with or without extra services. You will need the measurements and weight from Step 2 when using the USPS calculator.
Add handling costs to the total shipping costs if you want to know how much the package will actually cost to ship. The handling costs are the price of the box, tape and wrapping materials used to package the material. Although the sender does not pay these costs directly to the office, they are still out-of-pocket costs.