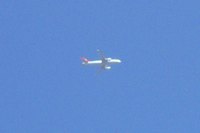 American Airlines was founded in 1934. By 1936, American Airlines was the United States' number one domestic air carrier. By 1937, the company had flown its one millionth passenger. Now, American Airlines flies worldwide. Tickets for flights are sold at the airport customer service desks, via telephone and via the company's website. The easiest way to cancel flights is online.
Things You'll Need
Passenger first and last Name
Canceling Via the Internet
Navigate to the American Airlines webpage.
Place the arrow over the "Reservations" button on the left hand side of the page, to make a drop down menu appear. Select "My Reservations" on the drop down menu.
Log in to your American Airline account by entering your AAdvantage number and password and clicking the red "Go" button. If you do not have an account, click the "Continue" button under the continue without logging in section. Enter the passenger's first and last name, along with the 6-digit record locator number, and then press the red "Go" button.
Click on the flight that is being canceled. Click the "Cancel" Button. Then confirm the cancellation by again pressing the "Cancel" button.