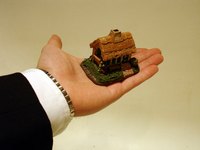 A Realtor is a person who is not only licensed to broker real estate transactions between a buyer and seller but is also a member of the Realtors association. Frequently assisting in large money transactions, a Realtor typically carries errors and omissions insurance (E & O insurance) but may also wish to establish more legal protections by incorporating or forming a limited liability entity.
To incorporate as a Realtor, a real estate broker must create articles of incorporation or articles of organization and register their fictitious name with the state or county.
Things You'll Need
Articles of incorporation or articles of organization
Fictitious name registration
Choose a name for your real estate business. The name you give your real estate brokerage can be your full legal name or a fictitious name. You will not be able to include the term "Realtor" in the name of your real estate brokerage because it is a registered trademark of the National Association of Realtors.
Decide your real estate brokerage's structure. A corporation or a limited liability company (LLC) structure will be the best for a real estate brokerage. If you have employees (such as a receptionist), incorporating may be the best option. If you are working with other brokers, then forming an LLC will be more advantageous to you and the other members. In each case, the business will be a legal entity and protect your personal assets from the brokerage's liabilities.
Create your articles of incorporation or articles of organization. These documents, which can be drafted online with the assistance of a legal documentation service, establish the officers or members, set your business guidelines and structure. You will also need to name one officer, yourself or another member as a registered agent (a registered agent is responsible for receiving any legal documents).
File your corporation or LLC with the state in which you want to incorporate. In most states, you'll file your articles of incorporation or articles of organization with the secretary of state's corporation's division. In addition, you will also need to register your brokerage's fictitious name (if applicable with the secretary of state's office or local county agency).