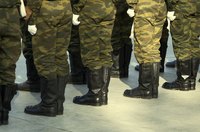 A Thrift Savings Plan is a retirement plan established for those employed by the United States government--civilian or military. When employment or service is completed, the plan participant has the option to rollover the assets into a self-directed IRA. The IRS requires that the rollover is to a traditional IRA and not a Roth to maintain the tax-deferred status of the investments. This may not be the best option for everyone. Review the pros and cons with a tax adviser prior to making any rollover decisions.
Find an IRA custodian who offers the investment choices you want for your retirement assets. Ask a tax adviser, bank representative, friends and family for referrals.
Contact the IRA custodian in person or by phone. Request an IRA application and rollover paperwork.
Fill out the paperwork making sure the contact information matches your TSP statement exactly. Rollovers can be rejected if there are discrepancies or errors.
Sign and submit the IRA rollover paperwork with the account application. Include a copy of your TSP statement.
Call the TSP administrator at the number provided on the statement. Request rollover paperwork from the plan administrator.
Fill out and submit the TSP rollover paperwork making sure to include the new IRA account information. Conduct a direct rollover to prevent 20 percent automatic federal withholding on the rollover amount. Direct rollovers move the assets from the TSP administrator to the IRA custodian rather than sending you a check (indirect rollover).
Allow four to six weeks for the rollover to occur.