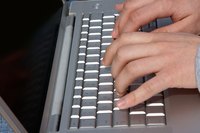 A letter of charges (most commonly referred to as a collections notice or letter of debt) is a statement of charges (debts) that is owed by a borrower to a creditor, usually through a collection agency or an attorney.
To dispute a letter of charges, you'll need to know the original creditor, have the charges (debts) verified and answer with a dispute letter.
Find out the original creditor. In some cases, debts are sold by the original creditor to a collection agency and the debt is again sold to yet another collection agency--in these instances, the name of the original creditor may not appear on the letter of charges. Phone the agency that sent the letter of charges and ask for the name of the original creditor, but do not make any promises to pay during the phone conversation.
Write a dispute letter. Request proof of the charges by writing a dispute letter to the collection agency (see Resources). In the dispute letter, write your full name, address and phone number. Write the name of the agency that sent the letter of charges, along with its phone number and address--list any account number or reference number as well.
Request they provide written proof of what the charges are owed for, proof the agency is licensed and legally allowed to pursue collections in your state, an itemization of the charges, the dates associated with the charges and a copy of your agreement to pay the original creditor.
Dispute the charges with the credit bureaus. Visit the online dispute sections of each of the three credit reporting agencies and open a dispute directly with them regarding the charges (see Resources). The credit bureaus by law must verify the charges are legitimate or remove them from your credit report.