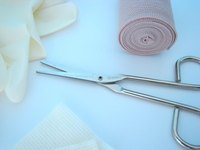 Montgomery straps are fasteners that you can use instead of tape to hold bandages in place. Used primarily in long-term wound care, Montgomery straps wrap around a bandage rather than taping it directly to the skin. The elimination of tape benefits patients who experience discomfort or pain during bandage changes.
Things You'll Need
Latex gloves
Bandage
Medical tape (1-inch wide roll)
Sanitize your hands, put on a pair of clean latex gloves and clean the wound as prescribed by a physician.
Measure the distance around the area of the body that you will bandage with the use of Montgomery straps.
Cover the wound with bandaging until is completely protected, then add one more layer of bandaging. This will help minimize the friction from the Montgomery straps. Gauze pads work very well for this top layer.
Cut a strip of 1-inch wide medical tape long enough to go all the way around the wounded body part. Fold the tape onto itself lengthwise so that you end up with a ½-inch wide strip of medical tape, with no sticky back. Cut as many lengths of tape as you will need to secure the dressing in place over the wound.
Cut a hole in both ends of each Montgomery strap.
Wrap the Montgomery straps around the bandaging, all the way around the wounded body part.
Tie the ends of each strap together with string that you feed through the holes in each strap.