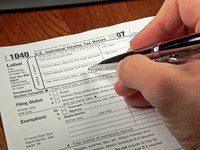 While tax rate brackets can change based on the type of income or expenses the business or individual makes, it is possible to determine a constant tax rate by computing the effective tax rate. Effective tax rate is the constant rate that a business or individual pays in taxes annually. This is an implied tax rate, not the tax rate at each applicable tax bracket. You express the effective tax rate as a percentage.
Things You'll Need
Business financial documents
Individual income tax return
Determine the individual's net income before taxes found on line 37 of the IRS Form 1040 or determine the business' net income before taxes found on their income statement. For example, on Firm A's income statement, Firm A has income before taxes equal to $100,000.
Determine the amount of taxes paid for a business, which is listed on the income statement under tax expense. For an individual, determine the amount of taxes paid on the tax return found on line 60 of IRS Form 1040. For example, Firm A's taxes paid equals $30,000.
Divide taxes paid by net income before taxes. For example, $30,000 in taxes from $100,000 in income equals 0.3 To calculate this into a percentage, you multiply it by 100; thus the effective tax rate is 30 percent.