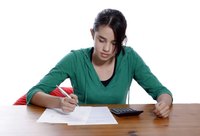 Alabama residents who meet certain income requirements are required to file an Alabama State Income Tax Return. On occasion, once a return has been filed with the Alabama Department of Revenue, taxpayers may realize that a mistake was made on the return or even receive an amended copy of a tax form that was used in the filing of their income tax return. When this happens, an amended tax return must be filed. Amended returns can be filed up to three years after the original tax year.
Things You'll Need
Documents showing tax changes
Steps to filing an Amended Return
Obtain a Form 40X, Amended Alabama Individual Income Tax Return, for the tax year you wish to amend, from the Alabama Department of Revenue's Web site.
Print and fill out the Form 40X to correct any mistakes from your original Alabama Income Tax Return. Instructions are provided with Form 40X to assist you with providing the appropriate information.
Mail your amended return to: Alabama Department of Revenue Individual and Corporate Tax Division Post Office Box 327464 Montgomery, AL 36132-7464
Amendment Limitations
Amend items on your tax return such as unreported income, unreported dividends and unreported tips. On occasion an employer will make a mistake on your W2 or 1099 and you may receive a corrected form after you have already filed your personal tax return, which will need to be amended.
Fill out Form NOL-85 if you are amending your return to include a net operating loss.
Carry net operating losses forward or backward up to three tax years on amended tax returns.