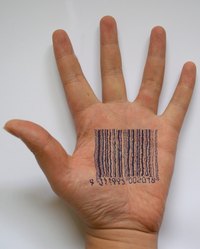 Small businesses may consider switching to bar codes for product pricing once their sales' volume reaches a certain level. Manual submission of product numbers and prices drastically reduces the speed with which orders can be processed. Adding bar codes will allow the business to streamline a number of product related activities in addition to order processing, such as inventory tasks. The process of creating the bar code label is simple and there are a number of online solutions for handling everything from creating to production.
Bar Code Design
Open an Internet browser and navigate to a website that supports free bar code design. Barcodesinc.com will be used for this example.
Choose the appropriate bar code options. Different products require certain types of coding. ISBN are used for books and UPC codes are used by large manufacturers that ship to multiple merchants. Both of these require paid registrations to obtain the unique numbers associated with the company and its products. Simple bar codes used in small scale operations are free to create.
Enter the text label that the bar code should have, as well as the font size and label location.
Choose the output file type and any additional design options desired.
Press the "Generate" button.
Click on "Link or embed this code" and copy the URL in the "Link" field.
Paste the URL into a new browser tab or window.
Right-click on the image and choose "Save As" to select where to download the new bar code.
DIY Label Creation
Decide how to create the bar code labels. One option is to print them on special printers that range in price from a few hundred dollars to thousands of dollars.
Create the label template locally by opening a word processing program.
Choose the option to create mailing labels.
Follow the onscreen instructions and import the image that was downloaded in the previous section.
Print the labels on the bar code label printer.
Outsourcing the Printing
Decide where to print the bar code labels. They can be ordered from a number of companies that offer bar code solutions.
Choose a company that fits the printing volume needs.
Contact the company for pricing options.
Upload or send the bar code created in section 1 for editing.
Order the necessary amount of bar code labels.