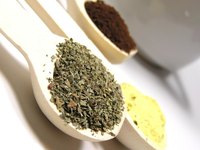 Home cooking businesses are a popular form of business to start for entrepreneurs with a passion for cooking and staying at home. If you love sharing your love of cooking with others, enjoy working out of your home and have a desire to run your own business, you can start a home cooking business from the comfort of your residence.
Figure out your niche. Determine what types of clients you will go after such as consumers who enjoy food from a certain part of the world or parents who do not have much time to cook for their families. You can even work with wedding planners to provide food for the weddings they coordinate.
Conduct market research in your area. Figure out what services you can offer to make your home cooking business stand out from others in the marketplace you serve. Look at the menus that eating establishments, delis and catering companies in your city offer, and price the items you serve more cheaply, in order to gain a competitive edge.
Take inventory. Decide what items you will need to start your home cooking business. Include items such as spices, pots, pans, carrying boxes, and cooking utensils. Establish relationships with suppliers who offer discounts for buying in bulk or locate a shopping warehouse in your area to meet all of your supply needs.
Obtain the required licenses in your state. Expect a visit from the local Department of Health, which will need to ensure your home cooking business is operating according to the rules and regulations of your state.
Seek out clients. Have business cards made at a print shop in your city. Attend local events where future brides and grooms go to find people who will provide food for their wedding. Hand out your business cards at these gatherings, and get the contact information of these potential clients so you can follow up with them at a later date. Let the people you meet know that you can beat any price they are offered.