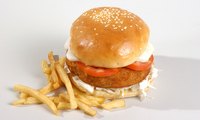 A sandwich delivery business is a low cost business start-up. This business provides sandwich delivery service for restaurants, which can be convenient for workers in commercial business centers or for the local soccer team after a big win. It is a moderately straightforward small business start-up with potential for a budding entrepreneur.
Things You'll Need
Identify a target market. What part of the local market demands this type of service? In the identified town or community, who is most at need for food delivery services? Is there an assisted living community, a business park, or university in need of this convenience? For restaurant clients, identify an area where a lot of restaurants are located in the target market.
Call quick-service and midscale restaurants that may outsource their delivery service as well as local restaurant establishments that service the target market. Find out if they offer food delivery. If they do not, ask to set up an appointment with the owner or manager to discuss outsourcing this service as a convenience to customers.
Establish a limited delivery area, delivery pricing, and time of operations for delivery pick-ups. It is important to focus on developing restaurant clientele in a particular demographic area. This will insure that the business profits will not all go to the expense of automobile gas and maintenance.
Set up a business website that allows restaurant personnel to enter new order delivery pick-up. The delivery service website should be customized to give each restaurant client access to a password protected area to provide notice of a delivery pick-up. Depending on the size of the business operation, a delivery dispatcher can monitor the website or a delivery person can receive a direct e-mail and text message alert of the delivery request. Alternatively, a telephone dispatch service can be established.