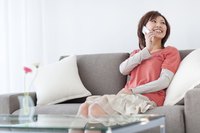 Third parties aren't allowed to access your mortgage information without your permission, though you may occasionally need them to do so. You can provide permission for an individual or business to access your mortgage loan by submitting a written request to the mortgage lender. Mortgage lenders typically take great care in safeguarding borrowers' mortgage loan particulars. Once a mortgage lender receives your written permission for third parties to access your information, it takes several steps to ensure they're actually who they say they are.
Authorizing Mortgage Info Access
First, contact your mortgage lender for its mortgage information access authorization policy. Determine who you want to have access to your mortgage information and whether this involves writing a letter or filling out a form. Examples might be adult children helping parents with finances, another mortgage company handling a refinance or government relief organizations verifying aid eligibility. Relatives with mortgage access information or those with a power of attorney can also make payments or verify that a payment has been received.
If writing an information access authorization letter to your mortgage company provide the names, addresses and phone numbers of the individuals who can access your mortgage information. Send your authorization request to the mortgage company correspondence department. Your info access letter should read, "Please be advised that I am allowing the following individuals permission to access my mortgage loan."
Always call your mortgage company and verify that your information authorization access permission letter has been received. Anyone whose name is listed in the access letter will be able to obtain the balance on your mortgage, date of the last payment, interest rate and when the next payment is due. He will also be able to make payments over the phone.
If applicable, fill out the release and authorization form that a refinance company, government agency or some other reputable business or organization entity will provide. For example, in the case of a refinance, the form will give the mortgage company and others involved in the refinance process access to information they need to analyze and authorize a refinance as well as pay off your existing loan.