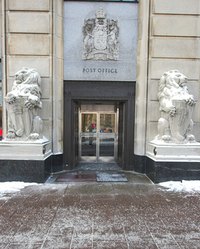 A post office box is essentially a mail box located inside the post office. These provide secure environments if you are uncomfortable with your housing location. In Dallas, Texas, it is possible to locate exactly where a particular post office box is, if you know the ZIP code. Then you may track down the particular post office and find the post office box.
Go to the USPS.com website. Choose "Locate a Post Office," then choose "Post Office Locations." Do not select "Search PO Boxes Online"; this just points you in the direction of available post office boxes.
Type in the ZIP code of the Dallas, Texas, post office box. Choose "Search"; the available post office in the specific ZIP code (there is only one per ZIP code) is displayed on the screen.
Drive to the Dallas, Texas, post office location you found online. When you walk in, there are all the post office boxes in the main reception area.
Look at the numbers on the post office boxes until you find the number that matches the P.O. box number you have. This is the post office box you have been looking for.