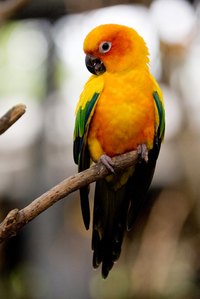 Bringing a mature sun conure home means that you have to slowly gain its trust. It is a bit more difficult to gain the trust of a mature sun conure than a baby, but it can be a rewarding experience. Once you have made the bond, you have a friend for life that will reward you with affection and amusing antics.
Introduce the sun conure to its new home by placing it in its new cage. Let the sun conure get use to the cage before you start attempting to train it. This can take anywhere from a week to a month. The sun conure will start to become curious about its surrounding and will start to explore the cage. You will be amused by its antics as it tries out each of the new toys in the cage and figures out what ones it likes best. Talk to your sun conure while it is in the cage so that it can get use to your voice.
Talk to your new sun conure in a calm voice and spend time sitting next to the cage. Talking to the mature sun conure without playing with it or trying to touch it will let the bird know you will not hurt it and that you live in the same area he does. Open the cage door and let your bird come out of the cage. Watch as it starts playing with things on the sides of the cage. Offer your sun conure treats without trying to pick it up. Sun conures are playful birds and they will eventually come over to you to "talk" to you and investigate you on their own. If you try to force them to come to you, you will scare them.
Feed the sun conure treats from your hand by placing the treat on the flat of your hand and putting it in its cage. If you put the treat between your thumb and your finger you may get bit on the finger. Having your hand flat makes your hand harder to bite. Use treats and praise as rewards for good behavior and ignore the bad behaviors. If your sun conure is acting out, do not respond to it by saying "no" or yelling at it. Because it is a social creature, it is better to put the the bird down, walk away and ignore it. Then go back to it after a few minutes and interact with it again.
Teach the sun conure to do the Step Up command. If you are lucky, it may already know the command. Place your finger next to the bird's feet and say firmly "Step Up." Push your finger lightly against the chest . This will encourage the sun conure to lift its foot and step onto your finger. Sun Conures are curious birds and like to learn new things. Once they have mastered step up try the step down command also. The sun conure's curious nature is helpful because it makes them want to interact with you and learn new things. They especially love vocal praising and head scratches.
Handle your mature sun conure on a daily basis. Interact with the bird daily or you will not be able to properly tame it. A tame sun conure will continue to learn tricks and words if you interact with it on a regular basis. Sun conures will get upset if you leave them alone. Then they will turn cage aggressive and nip at your fingers. Sun conures are quick to forgive if you praise them and give them treats.
Reward the sun conure with food and praise whenever it does what you want it to. Ignore bad behavior from the bird. Do not ever hit or yell at your sun conure because that will scare it and the bird will not trust you. Sun conures have a long memories and will react badly when people abuse them. Many conures become aggressive after they have been abused and their owners end up not spending time with them or give them away. Most of the aggressive behavior comes from being misstreated. You can retrain a sun conure by using praise, patience and positive attention.