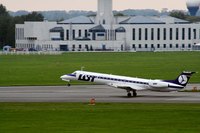 You may need to change a Delta nonrefundable ticket because you're a business traveler and your work schedule has changed. Or perhaps a natural disaster has caused you to need to change your travel plans on short notice. For example, in April 2010, a massive dust cloud from a volcanic eruption in Iceland caused dangerous flight conditions across Europe, leading U.S. airlines to cancel more than 83 percent of scheduled flights to Europe. Regardless of whether you booked your flight through Delta or a third-party agency, you can use Delta's website to make any changes you need.
Select the "Itineraries and Check-In" option from the "Traveling and Check-in" dropdown menu at the top of Delta's homepage, Delta.com. Indicate what information (SkyMiles, confirmation, credit card or eTicket number) you will use to find your existing itinerary, by clicking the circle next to the appropriate option. Type the information requested in the fields that appear and click the dark blue "Search" button at lower right.
Click the blue and white "Change flight" tab at upper right on the new screen. Display your existing reservation on the screen by entering your SkyMiles number, your eTicket number or the last four numbers of the credit card used to buy the ticket.
Click on the segment of the Delta nonrefundable ticket reservation you'd like to change and update the flight date, origin and/or destination field(s) to reflect your desired changes. Click the "Search" option at lower right.
Click the "Select" option next to the new flight you choose. A summary screen showing the costs of the current reservation, new flight and reservation changes will appear. You must pay the difference between the two fares, plus a change fee ($150 for domestic travel or $250 for international travel). If the new flight's cost is less than that of your existing flight, the difference will be subtracted from the change fee. To accept the costs and make a payment, click "Continue" at bottom right.
Enter the credit card number you'll use to pay for the changes to your Delta nonrefundable ticket and click "Purchase" at the lower right. A message confirming the changes will appear, along with your new itinerary and a receipt. To verify flight changes, view your new confirmation email or revisit the "Itineraries and Check-in" section from the main page of Delta.com.