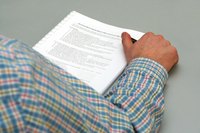 Business documents are used for many reasons, such as to inform, make requests and to persuade. Business documents include emails, memos, letters, reports and proposals. Although business writing has multiple purposes, all business documents have similarities, such as being formal, precise and easy to read.
Things You'll Need
Brainstorm ideas. Decide what type of document you intend to write (letter, proposal, report, etc.) and then brainstorm content ideas. Write down everything that comes to mind, even if you don't think it's relevant. Brainstorming helps clarify your ideas and gives you a starting point for writing.
Make an outline. Knowing what you are going to write before you start will help you stay on track and save time. Look at your brainstorming ideas and choose the relevant ideas to be used in your document. Use those ideas to write an outline of your document. Number your main ideas/topics and use bullets to write sub-categories or ideas within each main idea.
Use your outline to write the rough draft of your business document. The outline provides topics for each paragraph or section of the document so be sure to use it as a guide as you write. If you find yourself straying from the outline, refocus or consider whether you need to add something to the outline.
Stay focused on the purpose of your document. Ensure your document uses an appropriate style that meets its purpose; i.e. if you are writing a request letter, is it persuasive? If you are writing a report, is it informative?
Revise and edit. Make sure your rough draft is clear and precise by eliminating any irrelevant information. Rewrite any awkward sentences or paragraphs, clarify unclear sections and make sure you have answered any questions a reader might ask. Also make sure you have addressed all key issues. Next, edit your document for spelling and punctuation.
Use appropriate language. Choose language and vocabulary that your intended reader(s) will understand. A good rule of thumb is to keep the language simple. If you must use technical vocabulary or acronyms, define them unless you are certain your readers will understand them.
Format appropriately. Use the appropriate format for your document style (i.e. If you're writing a business letter, use block format). Most business documents use single spacing and 12-point font; write page numbers on long documents. Place graphs, charts and other supporting documents in an appendix. Create a cover page and a table of contents when appropriate.