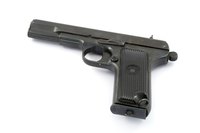 To legally sell firearms in the state of Texas, you must acquire a federal firearms license or FFL. The holder of this license may also transport firearms and act as a middle man for firearm transactions. In other words, if a customer purchases a firearm on-line they can choose to have the firearm sent to their local FFL holder for pick up. A small fee is usually charged by the FFL holder for this service. The process for getting a federal firearms license in Texas is the same as it is in any other state.
Things You'll Need
Application for federal firearm license
Certification of compliance
Fingerprint identification cards
Photographs
Application fee
Complete the application for federal firearm license Form 7 and the Certification of Compliance form. You can order both of these forms by contacting the Bureau of Alcohol, Tobacco and Firearms.
Contact your local law enforcement agency to schedule a time to complete your FD–258 fingerprint identification cards. Two cards must be completed for each person responsible for running the operations of your business.
Take two pictures of yourself and anyone else who is responsible for running the business. These will need to be printed to a size of 2 inches by 2 inches. Any place that takes passport photographs should be able to complete this service for you.
Mail the pictures, complete forms and fingerprint cards to the ATF for processing. The mailing address is listed on the FFL application. The ATF will process the application and send it to your local field office in Texas.
Wait for your local field office to contact you to schedule a time to meet with an industry operations investigator, who will make sure your business complies with all state, local and federal laws. The investigator y will also check your information to make sure that you filled out the application completely and honestly before submitting a recommendation to the federal office.
If approved, you will receive your firearms license in about 60 days from the time your application was first received.