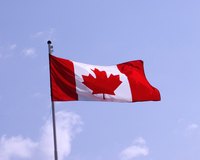 Moving to Canada is not as easy as packing up your belongings and crossing the border. Canada's immigration policy is strict and specific for certain career skill sets. You and your family must each apply and be accepted into Canada. Moving to Canada with your family also poses other challenges, such as acclimation to a new culture, leaving a familiar place behind and moving across an ocean if you are coming from Europe, Asia or somewhere else outside of North or South America.
Things You'll Need
Read about each province and territory in Canada. Do your research to find out which province, territory or city is best for you and your family. A few sites are in the Resources section to help you get a feel for each province and territory's history, lifestyle, climate, economy, housing market and other cultural details. Choose the right area to focus on based on your research.
If you have friends or family in Canada, speak to them about the lifestyle of the area they live in. Find out information about job availability, housing costs, school systems and other important factors for your family.
If you already have a job lined up or have specified the part of Canada you plan to move to, then your decision is already made.
Visit the city you plan to move to. If possible, take your entire family. Stay near the center of the city, so it's easier to explore the area.
If you are from the United States, you need just a valid U.S. passport to enter Canada. No visa is required if you are staying for less than three months. If you are from another country, you might need a visa. Visit the link at the fifth Resources link to learn if you need a visa to visit Canada. You can apply for a travel visa by visiting the link at References 2. Fill out the form at that site and print the application.
When you arrive in Canada for your visit, explore the area, and look for pros and cons based on your family's current lifestyle. Scout out the parks, retail areas, restaurants, grocery stores and other amenities that are important to you and your family. See how busy the traffic gets and at what times. Speak to a local real estate agent about the area's housing market. Find out what average home prices are, the competitiveness of the market and whether it is a good time to buy or rent. Also, pick up a local newspaper to see what jobs are available. Visit sites like Bestjobsca.com, Find-a-job-canada.com and Monster.ca to get a feel for what the job market is like in the area you plan to move to. If you find something that interests you, apply immediately.
Immigrate to Canada. Canada has very specific rules for accepting immigrants. Visit the link at References 1; download and print all forms and applications.
Most people immigrate to Canada as a skilled worker. Canada lists a variety of skill sets and careers that it is looking for. If you fall into one of those categories, your chances of approval are significantly higher than if your career path does not match any of the skill sets listed. Currently (as of May 2010), there are 28 different careers listed. Canada does change the list from time to time, depending on what jobs are needed across the country. See the most current list at References 3.
If your career path is not listed on the above site, try to obtain a job offer from a company in Canada. If you have a written job offer, your changes of approval greatly increase.
If your career is not listed on the above site and you do not have a job offer, consider hiring a Canadian immigration attorney to assist with the immigration process.
Submit immigration applications for you and each family member. Calculate your application payment. The fee is $550 for you, plus $550 for each family member over 22 and $150 for each unmarried family member under 22. Submit the completed forms, applications and payment to:
Citizenship and Immigration Canada Federal Skilled Worker Centralized Intake Office P.O. Box 7500 Sydney, NS B1P 0A9 Canada
Send checks or money orders; do not send cash.
Await immigration results, which can take between 10 and 14 months. During that time, save money for your move, and continue to look for jobs in Canada. If you have a job offer already, you can likely enter Canada and begin working even if your immigration application has not been approved yet; speak to your employer for details about coming to work on a temporary work visa. Once your immigration decision letter arrives, follow the next steps. If you are approved, enter the country as described in the approval letter. If you are denied, you can file an appeal or speak to a Canadian immigration attorney about other options.
Find housing in Canada. Speak to a Canadian real estate agent, or check area newspapers for houses for sale or rent. It may be helpful to rent a house for a few months to give you more time to look for a permanent house to buy. Consider the house's proximity to schools, your office, grocery stores and other amenities. Once you find a place, decide on a move-in date.
Find schools for your children to attend, if applicable. Ask your real estate agent for a list of schools in the area. Research each one and sign your kids up, or apply if necessary.
Sell or donate whatever belongings you do not plan to take to Canada. If your belongings do not have much financial or personal value, it may be easier to sell or donate them and purchase new items once you arrive in Canada.
Hire a moving company to help you pack and move most of your items. Gateways (Gatewaysmoving.com) is an international moving company that can help; or visit Intlmovers.com to find other moving companies that cross borders. The moving company can also help ship your car(s) if needed. Schedule your belongings to arrive the day of or a day after your scheduled move-in date.
Pack the rest of your belongings (some clothes and daily essentials) and fly or drive to Canada. Arrive in your city a day or two before your move-in date to take care of any last-minute details that might arise. Make a hotel reservation if necessary.
If you have pets, you can bring them into Canada. Dogs and cats do not have to be quarantined, unless they are under 3 months old.
Move into your new house. Begin working or job hunting if you do not yet have a job. Participate in community events to meet new people and help your family acclimate to your new life in Canada.