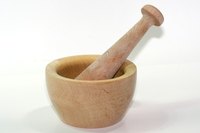 Hair-conditioning treatments are essential if you want to have soft and manageable hair. Most treatments offer deep conditioning, which reduces or prevents dryness and frizzy hair. Many people do not know that they have natural hair-conditioning products right in their refrigerator. Hair-conditioning treatments are not created equal, and you could end up spending a lot of money. For homemade, natural hair treatments, all you need is an investment of your time and a little patience.
Things You'll Need
Potato masher, fork or spoon
Avacado
Small mixing bowl
Whisk
1/2 cup plain mayonnaise
Tsp. baby oil (optional)
Mash one avocado into a small mixing bowl.

Whisk 1/2 cup of plain mayonnaise with the avocado. Blend them thoroughly.
Whisk 1 tsp. of baby oil with the avocado and mayonnaise mixture. Adding baby oil is optional.